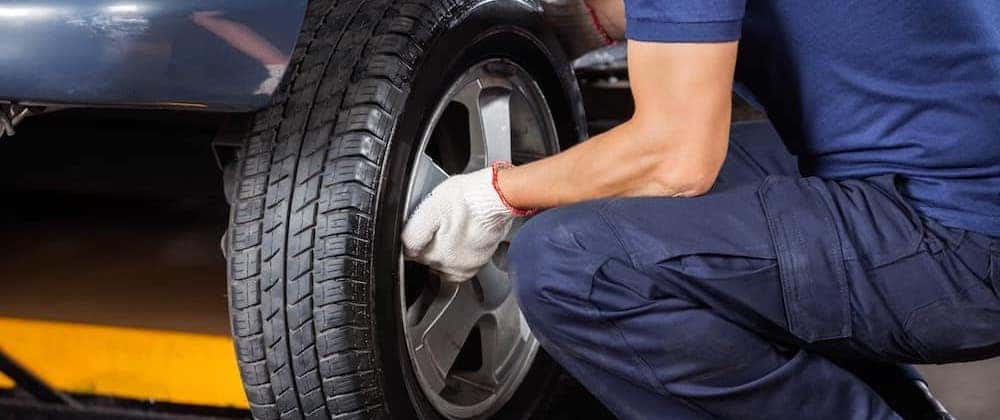 Everyone wants to enjoy the best performance that they can on the roads near Dawsonville and Gainesville, but how often should you rotate your tires? The answer depends primarily on your vehicle's drivetrain.
In general, our service team recommends that you get your tires rotated once every 5,000 to 7,500 miles for FWD/RWD vehicles, or once every 3,000 miles to 5,000 miles for AWD/4WD vehicles. Since most drivers travel an average of 10,000 to 12,000 miles per year, this means you should be scheduling this important service roughly two to four times a year.
Why Should You Rotate Tires?
What is tire rotation? You're simply moving each tire to a new location on the vehicle. This sounds simple enough, but if you've been trying to save money, you might wonder why it's important to rotate tires in the first place! Here's what you should know:
If you don't rotate your tires at the proper intervals, they'll wear down at uneven rates.
This unevenness can quickly lead to a loss or traction or an unpleasant driving experience.
The resulting increase in vibration can even wreak havoc on your drivetrain over time, if you're not careful.
However, even if you always know how many miles to rotate tires, these crucial components won't last forever. When the time comes to trade up for a new set, come to Lou Sobh Kia.
How Do I Know if I Need a Rotation?
You now have a good idea of when to rotate tires, but what if you don't remember your last rotation? Even if you don't know how many miles to rotate tires for, you can estimate your need by looking at the depth of each of your tire treads.
The purpose of tire rotation is to ensure even wear, and in general, tire rotation is recommended if there's a difference of 2/32 of an inch, or more, between any two of your treads.
How can you measure such a small distance? Although the penny test can tell you when you need a whole new set of tires, for this task, it's better to use a specialized tool that can fit easily in your wheel well, at multiple locations. You can get exactly what you need at our parts department.
Lou Sobh Kia is Your Source for Tires and Tire Service!
Ready to secure your next tire rotation? Schedule tire service with Lou Sobh Kia. Our service center is just a short drive from Buford or Suwanee.
Service Specials From Lou Sobh Kia
Includes Balance, Install & 2 Year Road Hazard Warranty
Valid for Kia vehicles only. Select brands in inventory. Void where prohibited by law. Environmental disposal fee may apply. Taxes included in price. Not to be combined with any other offers, coupons or prior discounts. Must present coupon in person at dealership at the time of arrival. Limit one coupon per customer per service item. Valid only at Lou Sobh Kia. Expires 10/5/19.
EXPIRES: 10/31/2019
Lou Sobh Kia
1135 Buford Rd, Cumming, GA
Service: (470) 253-6057
Buy 3 Tires, Get 4th for $1
Expires: October 31, 2019
Includes Balance, Install & 2 Year Road Hazard Warranty
More Auto Service Tips From Lou Sobh Kia
You may have heard the term tire rotation mentioned in terms of routine maintenance for your vehicle, but what exactly does that mean, and what does a tire rotation involve? Schedule Service What Does Rotating Tires Mean? When you rotate your vehicle's tires, you're moving them from one position to another. The front tires will…