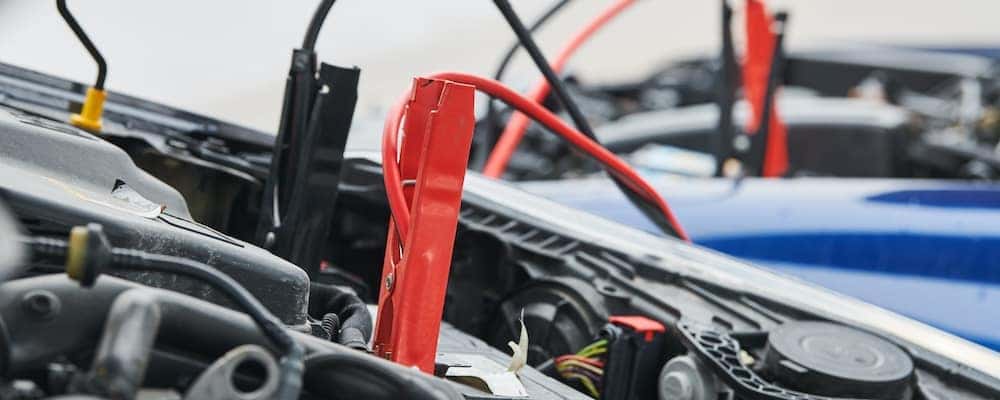 ---
Are you having a hard time getting your engine to turn over? Sounds like you'll need a jump. If your battery doesn't have enough juice left in it to get moving again, knowing how to jump start your car battery is a crucial part of staying safe and ready for anything around Alpharetta.
Thanks to our service center technicians, you'll have all the information you need to learn the proper way to jump start a car.
How to Properly Jump Start a Car
While some may prefer to call in a jump start car service like AAA, many will simply need to call a friend or deal with battery problems on their own. In this case, you'll need to have a set of jumper cables and another vehicle. Peruse these steps below, and proceed carefully before you head out to your journey in Dawsonville.
Park the two cars facing each other, with some room in between to be able to move through the gap, as long as the cables can reach between the two batteries. Make sure that each vehicle is turned off, and that the parking brakes are engaged.
Open both hoods and find the batteries. You may need to remove a plastic cover to expose the terminals on the battery.
Identify the positive terminal on your battery, marked with a plus (+) sign, and the negative terminal, marked with a minus (-) sign. Make sure they're clean and free of any corrosion.
Connect the red clamp to the positive post on the dead battery.
After uncoiling the battery cable, attach the other red clamp to the positive terminal of the battery with the charge.
Connect the black clamp to the negative post on the good battery.
Then connect the other black clamp to an unpainted metal surface on your car's frame.
If everything is connected securely, start the engine of the vehicle with the good battery first, then the one with the dead battery.
If you've successfully jump started your vehicle, you'll want to keep it running for at least 15 minutes to recharge your battery. Unless your battery is unable to take a charge, or your alternator is malfunctioning, this will ensure that your battery can turn your engine over next time you start up for a Gainesville drive.
Carefully disconnect the cables in reverse order from their connections, and remember to consult your owner's manual whenever you have questions.
Battery Tips and Tricks
It's a possibility that you could need more than a jump start if your battery needs to be replaced. This could also be true if there's a problem with the generator, alternator, starter, or some other electrical system. If your car won't jump start, take a look at these troubleshooting tips below:
A clicking sound when you attempt to start the car could mean your starter is malfunctioning.
If your engine won't start, but the electrical systems turn on just fine, there could be any number of issues with the ignition switch, battery, or starter. A busted fuse could also be the problem. Consult your technical professionals to schedule a service and diagnose the potential problem.
Get Back on the Road with Lou Sobh Kia
Thanks to an attentive eye, the proper way to jump start your car can be a cinch. No matter what your auto service needs are, our highly trained technicians in Cumming are ready to make sure you and your vehicle are ready for any weather and any travel. For more tips, take a look at how often to change your oil, whether brand-name batteries actually perform better, and why our dealership technicians are your best bet for your service needs.
Learn More with Lou Sobh Kia
When Alpharetta drivers compared the 2020 Kia Sportage to the Kia Sorento, the ones who needed more seating preferred the 2020 Kia Sorento. Does the Kia Sorento have 3rd-row seating? Yes, it does, making it a great fit for larger families and drivers who need cargo space. If you're asking, "What Kia Sorento seats…

Lou Sobh Automotive | By Cammie Alkire Often times Memorial Day is regarded as the "start of summer" or the end to a very long year of classwork. It's important to remember that Memorial Day means so much more to surviving military family members. According to the VA, Memorial Day and Veterans Day are often…

You can't miss the 2020 Kia Soul on the streets of Alpharetta. Its iconic shape radiates good vibes that continue in the Kia Soul interior. The Kia Soul interior dimensions give everyone plenty of room on the way to Dawsonville. Accessorize to fit your style with Kia Soul seat covers and more. Discover the wonders…