What is Tire Rotation?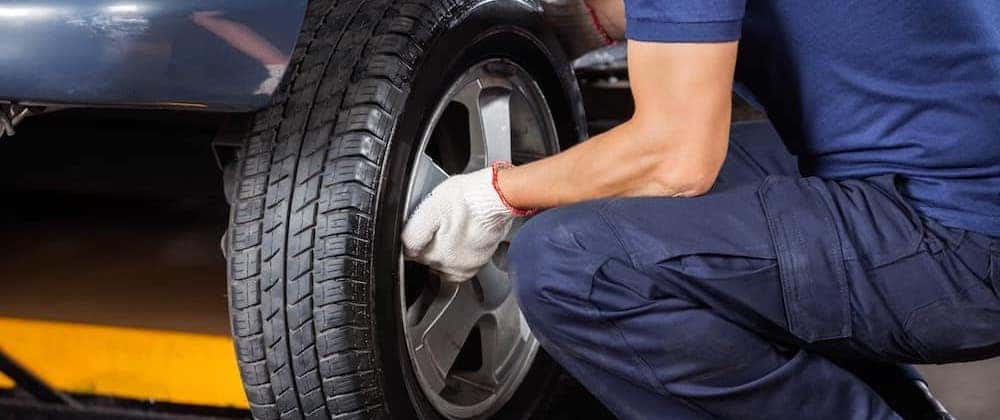 You may have heard the term tire rotation mentioned in terms of routine maintenance for your vehicle, but what exactly does that mean, and what does a tire rotation involve?
What Does Rotating Tires Mean?
When you rotate your vehicle's tires, you're moving them from one position to another. The front tires will move back to the same or opposite sides, and the back tires will do the same. This helps the tires wear more evenly.
Most vehicles carry more weight in the front, causing the front tires to wear quicker. When you rotate your tires and the front tires switch places with the back tires, it prevents uneven wear and improves the lifespan of your tires as you drive from Alpharetta and Dawsonville and back.
What Does Tire Rotation Do?
Maintains Traction: When tires start to wear down, they lose tread depth. A lack of tread depth means reduced traction, which can make controlling your vehicle more difficult in certain situations. Preventing uneven tire wear helps ensure that all tires have the same amount of tread.
Prevents Blowouts: As tires wear down, the chances increase that they can fail. This can lead to a blowout as you're driving around the Gainesville area. Tire rotations help you avoid this dangerous and scary occurrence.
Improves Performance: Tires that are worn unevenly can cause a vibration, which you'll eventually feel through your steering wheel. This can be distracting or worrisome while you're trying to drive.
Maximizes Efficiency: Worn tires create drag, which puts a strain on the engine and causes it to use more fuel, meaning you'll be stopping for gas more frequently.
Have Your Tire Rotated at Lou Sobh Kia
For a professional tire rotation, contact the team at the Lou Sobh Kia service center in Cumming. We're happy to answer all your tire-related questions and help you out with your routine maintenance needs.
More From Lou Sobh Kia
The 2020 Kia Telluride release date has finally passed, and Lou Sobh Kia is the Kia dealership Atlanta drivers turn to for this spacious new model. And if you're one of many Dawsonville customers, you may be wondering to yourself, "How much does the Kia Telluride cost?" The estimated starting price of the Kia Telluride depends on which…

Picking the color of your 2020 Kia Soul is one of the most exciting aspects when making your decision. And with an impressively advanced and safe interior, along with reliable performance for families and individuals, the Kia Soul comes in colors that meet those incredible standards. See for yourself what color you'll be sporting around…

The 2019 Kia Sportage offers plenty of interior space and comfort, but it also helps keep your family safe as you drive around Dawsonville. The Sportage comes equipped with a variety of safety features and earned high safety ratings from the National Highway Traffic Safety (NHTSA) star-ratings to the Insurance Institute for Highway Safety (IIHS)….